Authentica (INNELLEA)
11 June, 2022 @ 5:00 PM

-

12 June, 2022 @ 7:00 AM

UTC+0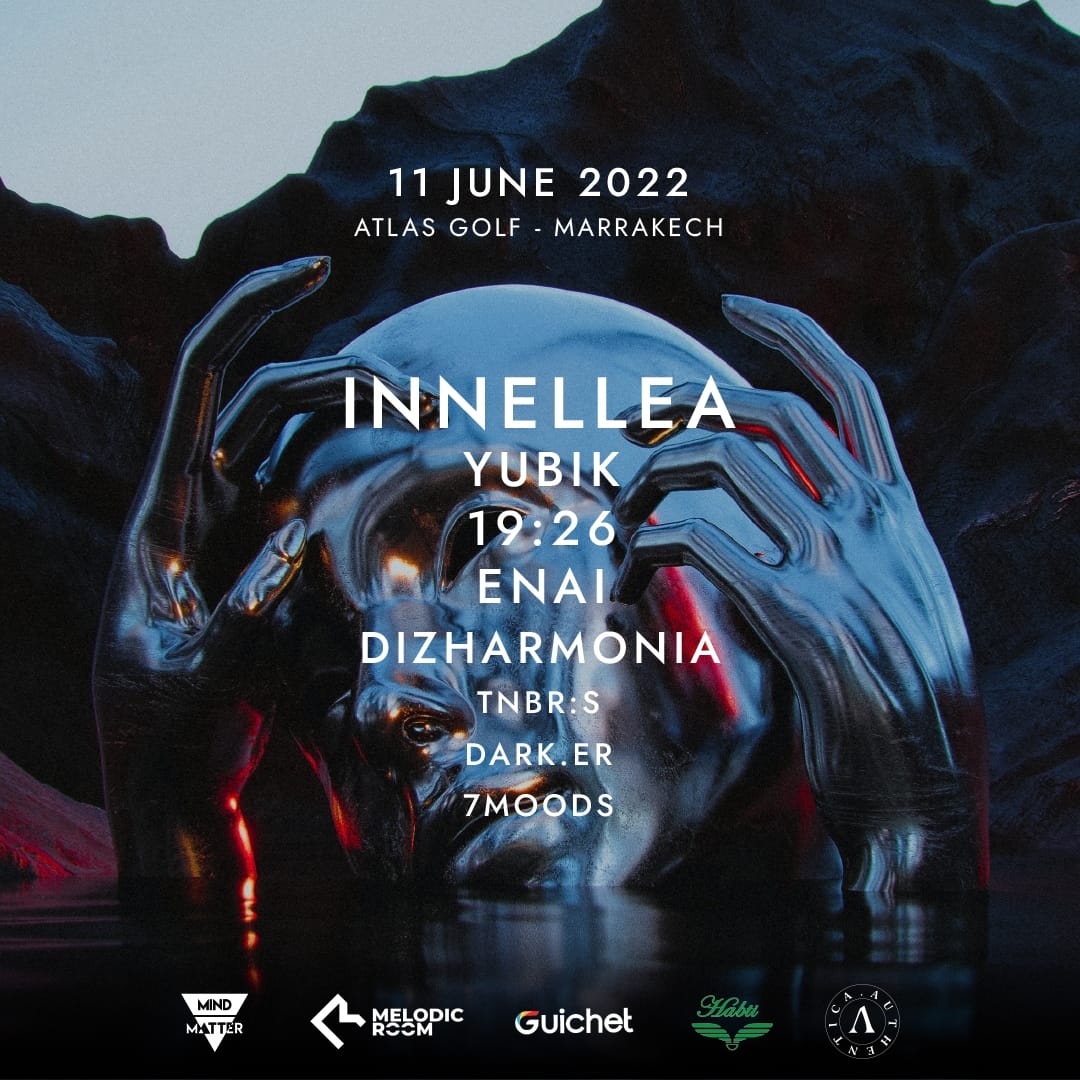 Mark your calendars!
Authentica and Melodic Room land in Marrakech on the 11th of june, and invite one of the engines of Afterlife Recordings: INNELLEA.
Influenced by the melodic trends of electronic music, he combined the roots of techno in a very creative way and created a unique and abstract sound.
And we're not done yet, Authentica are also bringing their best of the best:
● The German sensation Yubik : Cabalistic and groovy at the same time, his raw, feral and most of all irresistibly danceable sound effortlessly crosses borders.
● Dizharmonia : inspired and influenced by the modern sounds of techno and the oldschool sounds of the progressive music scene.
● Enai : Charted by Adriatique, Tiësto adding "Fall" on his Spotify playlist and also you have surely seen Solomun and Tale of US playing his music.
● 19:26 : An innovative musical project that has attracted the attention of the most important artists of the scene such as John Digweed, Tale of Us, Fideles, BOg, Fur Coat and many others
For this exclusive special event, we will partner with the famous Atlas Golf Marrakech on Saturday June 11th.
Be ready for 14 hours of non-stop sets (and maybe more �� )
Line Up :
● INNELLEA
[Diynamic, Afterlife & Innervisions] :
IG: https://www.instagram.com/innellea/
FB: https://www.facebook.com/innellea/
SC: https://www.soundcloud.com/innellea/
RA: https://ra.co/dj/innellea
● YUBIK
[Radikon, Atlant, Microcastle]:
IG: https://www.instagram.com/yubikmusic/
FB: https://web.facebook.com/yubikmusic
SC: https://soundcloud.com/yubik
RA: https://ra.co/dj/yubik
● DIZHARMONIA
[Stil Vor Talent, Ritter Butzke, Timeless Moment, ZEHN]
IG: https://www.instagram.com/dizharmoniaofficial/
FB; https://web.facebook.com/dizharmoniamusic
SC: https://soundcloud.com/dizharmoniaofficial
RA: https://ra.co/dj/dizharmonia
● ENAI
[Oddity, Dilate, Be Free]
IG: https://www.instagram.com/enaimusic/
FB: https://web.facebook.com/enaiofficial
SC: https://soundcloud.com/enaimusic
RA : https://ra.co/dj/enai
● 19:26
[Atlant, Oddity, Notturna]:
IG: https://www.instagram.com/19.26music/
FB:https://web.facebook.com/1926.official
SC:https://soundcloud.com/19_26
RA: https://ra.co/dj/1926