EKA FESTIVAL 2022
13 May, 2022 @ 5:00 PM

-

15 May, 2022 @ 4:00 PM

UTC+0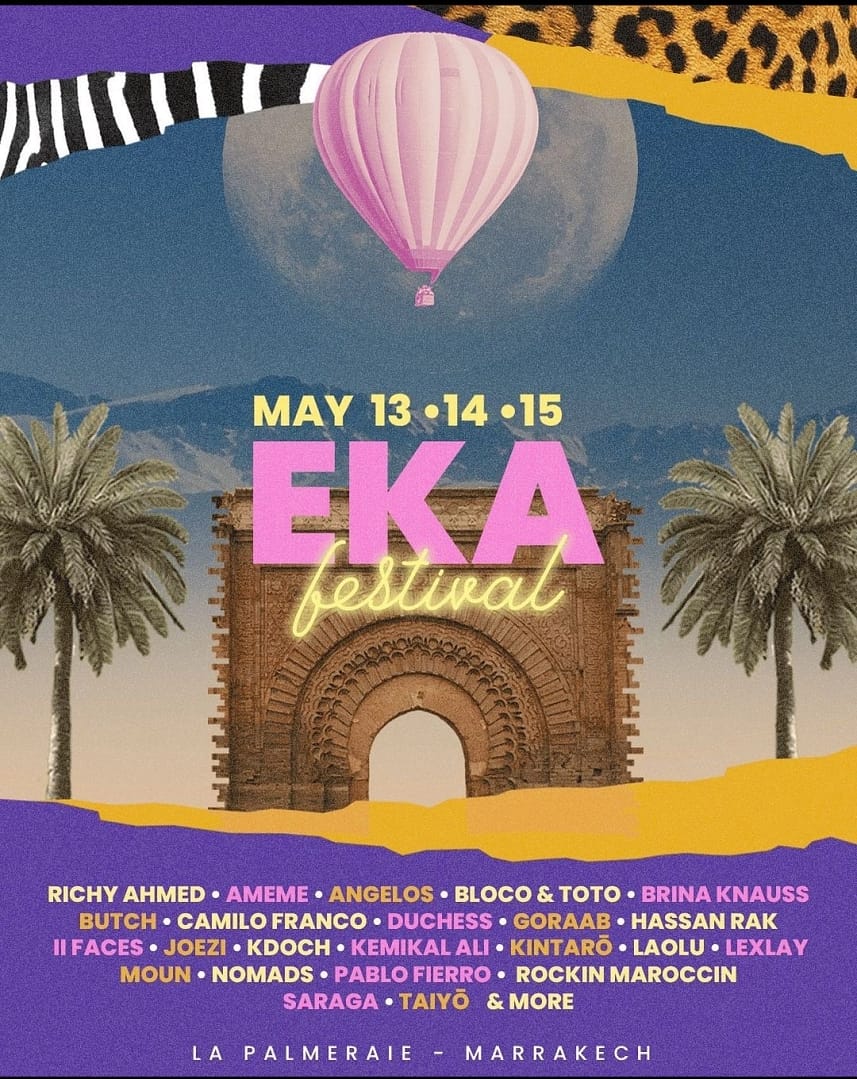 EKA Festival arrives in Marrakech this Weekend for 3 days to offer you a new experience combining music & arts. After organizing events around the world, we are happy to finally be present in morocco.
Their objective is to revolutionize the fundamental principles of travel and party through a community concerned with building and sharing strong moments based on the love of music, respect and esteem of self and others.
EKA enables artists, creators, entrepreneurs and innovators to meet and become one to offer you a multitude of activities: from music during yoga, to sound healing sessions or to discovery of healthy food and new designers…EKA will have many more surprises for you.
Beyond the music… an experience, where knowledge and creations blend with wisdom.
Welcome to EKA Festival!

[LINE UP]

FRIDAY 13TH
ANGELOS • BRINA KNAUSS • DUCHESS • GORAABJOEZI • KDOCH • LEXLAY • M.O.SNATABES B2B HICHAM K • RICHY AHMED • SARAGAWALLACE PARANO & PANDI
SATURDAY 14TH
AMÉMÉ • BELBEN B2B LABÉ • BUTCH • CAMILO FRANCOII FACES • KEMIKAL ALI • LAOLU • MOUNNAK B2B AMIR • NOMADS • PABLO FIERRO • ROCKIN MOROCCIN
SUNDAY 15TH
BLOKO & TOTO • CHAMBORD (LIVE) • DU MADFIDELES • FNX OMAR • HOLLY MOLLYIRENEE S • KINTARO B2B TAIYO • SIFA

[TICKETS]

– Starting at 550DH (Link in bio Tickets page)
Contact @ekafestivalFor more informations.
See you on the dance floor !