Invasion
29 September

-

1 October

300MAD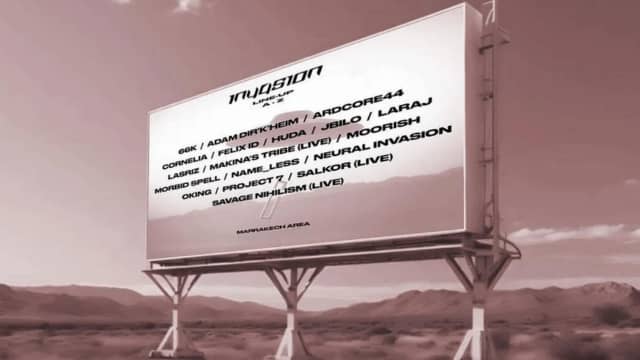 Embrace the "INVASION" Hard Techno Rave: Forging Underground Unity in Marrakech!
Greetings to all RAVERS of the underground scene in Morocco! The "INVASION" project has embarked on a thrilling journey, making its way to the heart of Marrakech after making waves in Rabat and Casablanca. Their mission is clear: to inject the spirit of the underground into a city synonymous with music and revelry.
A Movement Unveiled:
The "INVASION" project is more than a tour—it's a movement that unites communities across Moroccan towns and cities. We're breaking barriers and bringing together like-minded individuals, no matter where they reside. Our goal is to establish a movement that resonates with everyone, regardless of their location.
Sowing Sonic Seeds:
Imagine a landscape transformed by the rhythmic pulse of hard techno beats. The "INVASION" project is planting the seeds of pulsating energy across North African terrain. Our mission is to harness the power of music to unite, inspire, and redefine the auditory landscape of the region.
The Countdown Commences:
Save the dates—September 29th and 30th—as Marrakech becomes the epicenter of an unprecedented techno experience. Brace yourself for a musical journey like no other. We're thrilled to introduce a handpicked lineup of exceptional artists, to be revealed in the upcoming days. Each artist is carefully selected to ensure an extraordinary auditory encounter.
Stay Tuned for More:
The excitement is building, and we can't wait to share more details with you. Stay tuned for the upcoming announcements, where we'll unveil the eagerly anticipated lineup and the secret venue chosen to host this exceptional event. Prepare to join us on September 29th and 30th as they bring the "INVASION" project to life in Marrakech.
Summon your energy and unite with us as we dive into the world of hard techno. The stage is set, the rhythm is ready, and the future of Moroccan rave culture is being reshaped. Keep a lookout, as the revolution is underway! 👊🏻