LAŸLA
6 July @ 5:00 PM

-

7 July @ 1:00 AM

UTC+0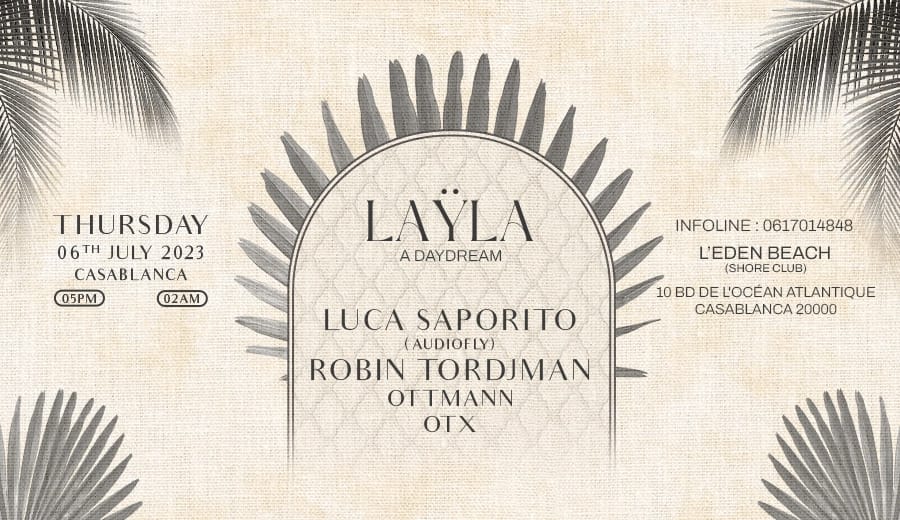 Experience the enchanting realm of deep, soulful music with LAŸLA! Embark on a thrilling journey as we immerse you in a world of captivating melodies and rhythms that will ignite your soul. Join us in a breathtaking location, Eden Beach, where the fusion of cultures and music takes center stage against the backdrop of the magnificent sea.
Prepare to be mesmerized as internationally acclaimed DJs curate a night of unparalleled musical ecstasy. Brace yourself for the extraordinary talents of Luca Saporito, known as Audiofly, whose hypnotic sounds will transport you to uncharted musical territories, leaving you spellbound.
Elevating the energy further is the sensational Robin Tordjman, a rising star in the vibrant Parisian nightlife scene. With his explosive sets and infectious charisma, Robin is set to ignite the dance floor, unleashing a torrent of electrifying sounds and uplifting beats that will keep you moving all night long.
Completing this extraordinary lineup is none other than OTTMAN, the visionary founder and resident DJ of Medina Paris. Prepare to be captivated by Ottman's impeccable ability to create an ambiance that perfectly complements LAŸLA's Bohemian oriental vibes. Lose yourself in the aura of LAŸLA as Ottman's eclectic tunes transport you to a realm of pure musical bliss.
And that's not all! Embrace the complete Bohemian oriental concept by indulging in the expert skills of our on-site makeup artist. Let your inner spirit shine as you fully immerse yourself in the magical atmosphere of LAŸLA.
The stage is set, the artists are ready, and LAŸLA eagerly awaits your presence. Join us for an unforgettable experience that will leave you craving more. Don't miss out on this extraordinary event!
LINE UP
LUCA SAPORITO (AUDIOFLY)
ROBIN TORDJMAN
OTTMAN
OTX
TICKET
Starting at 400 MAD Available HERE
LOCATION
L'EDEN BEACH (SHORE CLUB)
ORGANIZER
Instagram : @layla.nights