OASIS Into The Wild 2023
27 October

-

30 October

999MAD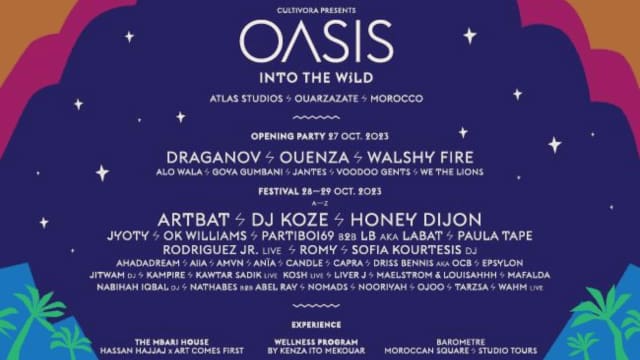 Welcome to Morocco's Oasis Into The Wild Festival, a premier event that has firmly established itself as a leader in North Africa's thriving festival scene. Building on the success of the Oasis electronic music, art, and culture festival held annually in Morocco, the 2023 edition of Into The Wild promises an extraordinary experience for festival-goers.
An Enchanting Lineup of Global and Moroccan Talent
Get ready to be captivated by the world-class soundscapes brought to you by an exceptional lineup of artists. Headlining the first wave of acts are the Grammy Award-winning Beyoncé collaborator, Honey Dijon, and the visionary Pampa boss, DJ Koze. Joining them is Amsterdam-born, London-based Jyoty, with her genre-hopping club music, and the enigmatic duo of Partiboi69 b2b LB aka Labat, delivering an unforgettable set. The xx's very own Romy will treat the audience to a hybrid performance featuring tracks from her new solo album.
Adding to the global allure is the Peruvian producer, vocalist, and DJ, Sofia Kourtesis, showcasing worldly sounds, and London-based TSHA, with her forward-thinking house and techno beats.
A Special New Location: Atlas Studios in Ouarzazate
This year, Oasis Into The Wild will take place at the iconic Atlas Studios in Ouarzazate, a historic location famous for being the backdrop of legendary Hollywood productions such as Gladiator, Game of Thrones, and The Mummy. Imagine dancing to electronic beats amidst the stunning sets where these blockbuster movies were filmed, creating an unparalleled and immersive atmosphere.
Discover the Flavors of Moroccan Cuisine and Art
Beyond the dance floor, Oasis Into The Wild celebrates the rich contemporary flavors of Moroccan cuisine. Prepare to tantalize your taste buds with a diverse array of culinary delights, giving you a taste of the country's vibrant gastronomic heritage.
Moreover, the festival will be adorned with cutting-edge art and culture pop-ups from North Africa's most exciting creators and tastemakers, offering a unique opportunity to explore the region's artistic brilliance.
The Journey: A Scenic Drive Through the Majestic Atlas Mountains
To reach the Oasis Into The Wild Festival, you'll embark on a breathtaking three-hour journey from Marrakech to Ouarzazate. The drive will take you through the majestic Atlas Mountains, offering awe-inspiring vistas and natural beauty that will leave you in awe.
Dedicated buses for festival attendees will be available from Marrakech, ensuring a convenient and seamless journey to the event.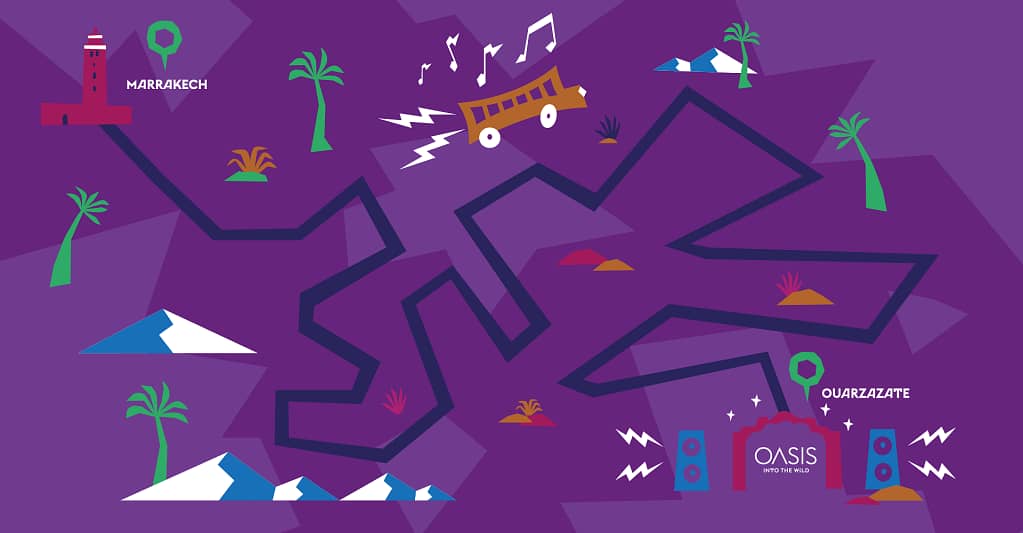 Tickets and Payment Options
To make the festival accessible to all, Oasis Into The Wild and Ticket.ma offer a convenient payment solution, allowing you to purchase your ticket in multiple installments, ensuring a hassle-free experience.
Festival Passes:
Festival Pass / Release 2: Access to events on October 28 and 29. Price: 2220 Dhs.
Weekend Pass / Release 2: Access to the launch party on October 27 and weekend festivities on October 28 and 29. Price: 2860 Dhs.
Weekend Pass Group Package / Early Bird (Sold out): This package includes access to the launch party on October 27 and weekend festivities on October 28 and 29 for six tickets at the price of five.
Secure Your Spot Now
Tickets for Oasis: Into The Wild Festival 2023 are on sale now at intothewild.ma. Don't miss the chance to be part of this incredible cultural extravaganza. Join us in Ouarzazate from October 27th to 29th for an unforgettable celebration of music, art, and the spirit of adventure. See you at the Oasis: Into The Wild Festival 2023!