SOME OF US
27 May @ 4:00 PM

-

28 May @ 4:00 AM

UTC+0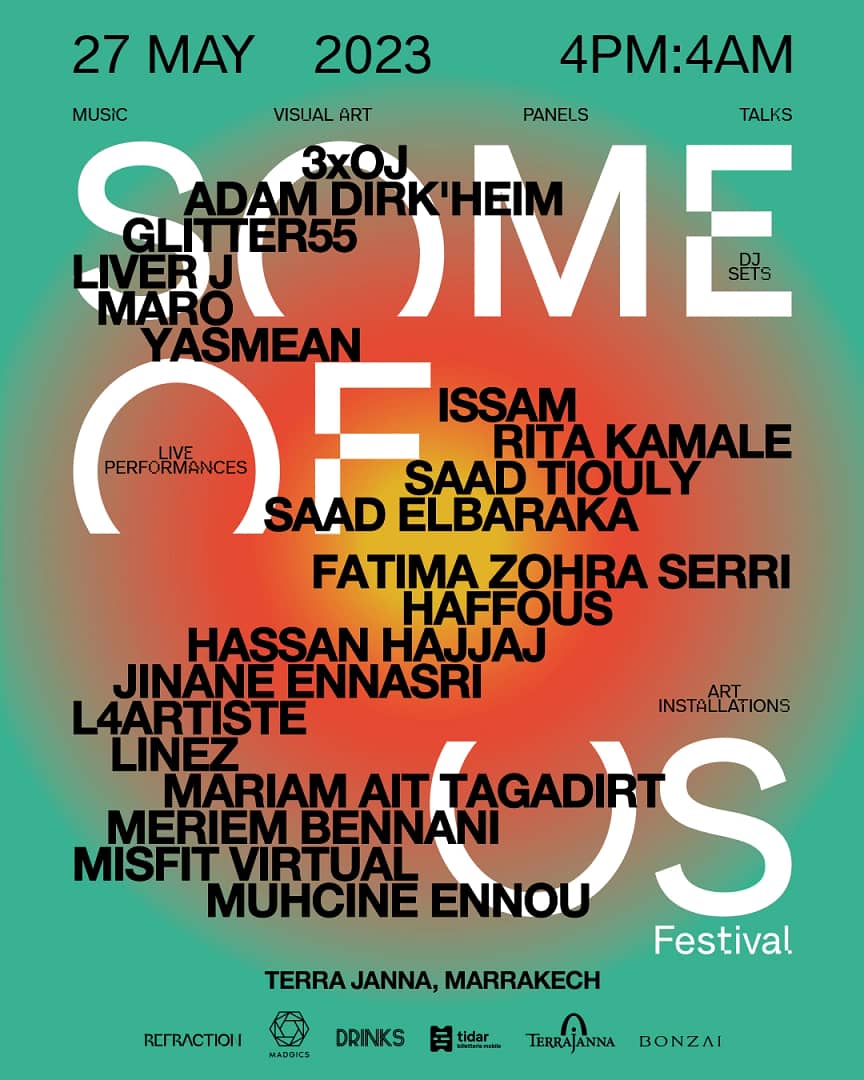 Step into a world like no other and experience the first festival of its kind in Morocco! SOME OF US is a festival that combines visual art and music to create a unique and immersive experience that is not to be missed.
Taking place on May 27, 2023, from 4pm to 4am, SOME OF US is an invitation to explore the world of music and art. The festival boasts a lineup that is 100% Moroccan, featuring talented musicians such as 3xOJ, Adam Dirk'heim, Glitter٥٥, Issam, Liver J, MARO, Rita Kamale, Saad Elbaraka, Saad Tiouly, and Yasmean.
In addition to the music lineup, Some of Us also features an impressive visual art lineup that includes artists such as Fatima Zohra Serri, Haffous, Hassan Hajjaj, Jinane Ennasri, L4artiste, LINEZ, Mariam Tagadirt, Meriem Bennani, Misfit Virtual, and Muhcine Ennou.
The festival takes place in the iconic Terra Janna in Marrakech, which will be transformed by the Some of Us artists into a wonderland of art and music. You are invited to step into this world and become a part of it – because, as the festival says, "Come in…you are the missing piece!"
Immerse yourself in the exhibitions, dance to the DJ sets, and enjoy the live performances throughout the night. You can also take part in workshops to learn more about the art and music of Morocco. Some of Us is a festival that celebrates the best of Moroccan culture and invites you to be a part of it.
MUSIC LINE UP
3XOJ
ADAM DIRK'HEIM
GLITTER٥٥
ISSAM
LIVER J
MARO
RITA KAMALE
SAAD ELBARAKA
SAAD TIOULY
YASMEAN
VISUAL ART LINE UP
FATIMA ZOHRA SERRI
HAFFOUS
HASSAN HAJJAJ
JINANE ENNASRI
L4ARTISTE
LINEZ
MARIAM TAGADIRT
MERIEM BENNANI
MISFIT VIRTUAL
MUHCINE ENNOU
TICKET
MORE INFO
📍 Location :  TERRA JANNA MARRAKECH