TERRA
26 November, 2022 @ 4:00 PM

-

27 November, 2022 @ 12:00 PM

UTC+0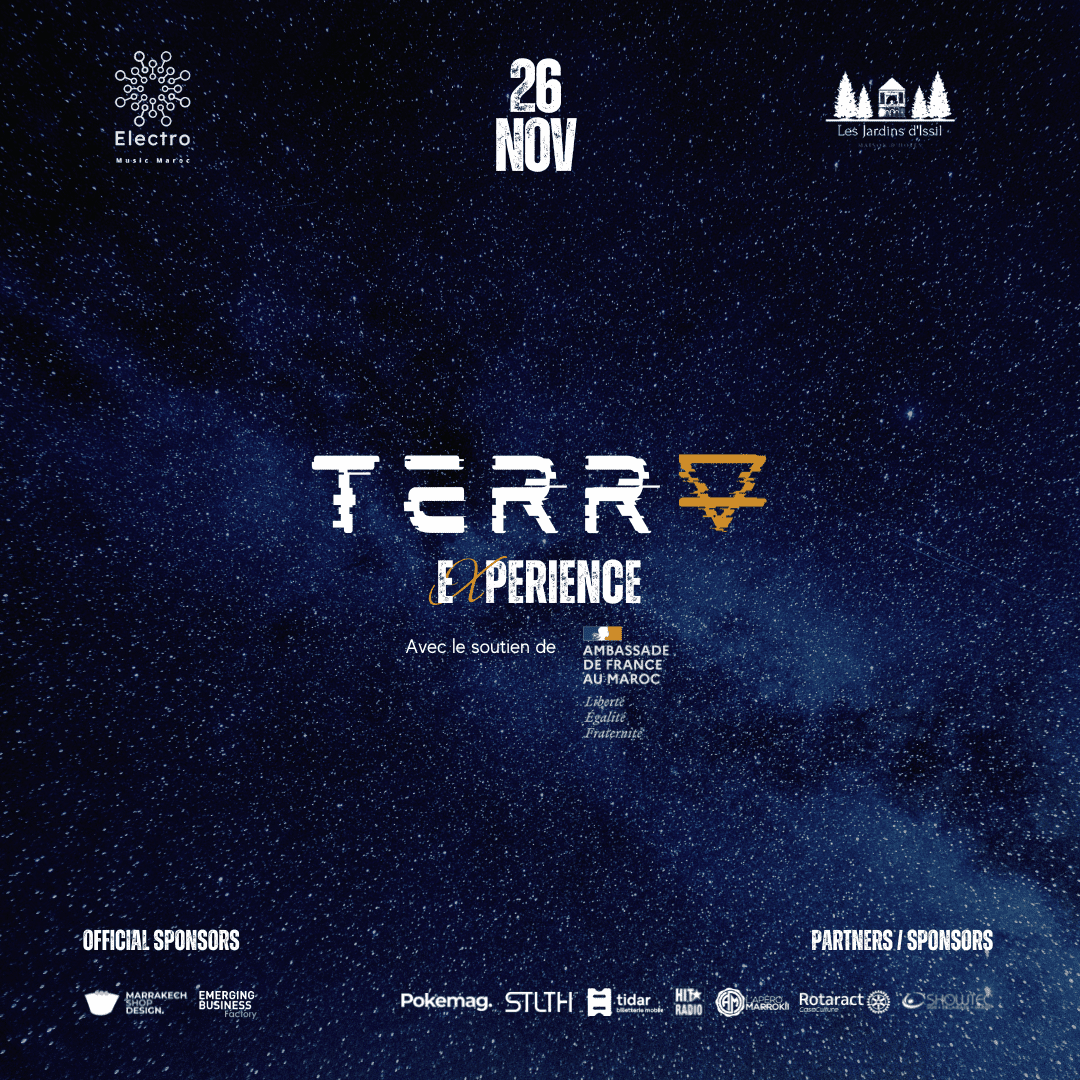 Terra takes you on a journey aimed to introduce a local and global audience to an immersive variety of artists, painters, and sculpture, and it is for the first time in Marrakech, a specialized event which brings visual arts together with melodic techno music.
An escape from the city, a worldwide line up and unique creators are all to be expected for the 26th November at KM13 Route Ourika Marrakech.
Terra is a new concept based on multi-sensory experience through art, nature, and techno music, creating a unique moment of human connection.
LINE UP
MORE TO BE ANNOUNCED.. STAY TUNED…
THE UNDERGROUND STAGE
The underground is our second stage devoted to promote and help amateur DJs gain some visibility.
Reveal yourself and show everyone what you can do in stage for 30min!
We would love diversity for our second stage but just confirm the music genre with us before 🙏
You can register HERE and show us what you got.
ECO-FRIENDLY
Each ticket or accommodation will help reforest the region of Marrakech, Tensift, El Haouz.
Part of the profits will be donated to an association fighting against deforestation and soil erosion.
A fruit tree will be planted for each ticket, table or accommodation sold.
TICKET
"Come early to pay less!"
PHASE 1 (EARLY BIRD):
🎟️ Early Bird Access Before 6PM 300MAD
🎟️ Early Bird Access After 6PM 350MAD
🎟️ Early Bird Backstage 500MAD
PHASE 2 (REGULAR):
🎟️ Regular Access Before 6PM 350MAD
🎟️ Regular Access After 6PM 400MAD
🎟️ Regular Backstage 550MAD
PHASE 3 (ADVANCED):
🎟️ Advanced Access Before 6PM 400MAD
🎟️ Advanced Access After 6PM 450MAD
🎟️ Advanced Backstage 600MAD
ACCOMODATION
PHASE 1 (EARLY BIRD):
🏠 BASIC ROOM: 1200MAD
🏠 SUITE(2 Backstage access): 2000MAD
PHASE 2 (REGULAR):
🏠 BASIC ROOM: 1500MAD
🏠 SUITE(2 Backstage access): 2500MAD
PHASE 3 (ADVANCED):
🏠 BASIC ROOM :1800MAD
🏠 SUITE(2 Backstage access): 2800MAD
PACKAGE
PHASE 1 (EARLY BIRD):
🍾 BASIC TABLE(1 Premium Bottle 4pax) : 1500MAD
🍾 PREMIUM TABLE(2 Premium Bottles 4pax): 2500MAD
PHASE 2 (REGULAR):
🍾 BASIC TABLE(1 Premium Bottle 4pax) : 2000MAD
🍾 PREMIUM TABLE(2 Premium Bottles 4pax): 3000MAD
PHASE 3 (ADVANCED):
🍾 BASIC TABLE(1 Premium Bottle 4pax) : 2500MAD
🍾 PREMIUM TABLE(2 Premium Bottles 4pax): 3500MAD

🍾🍾ROOFTOP BACKSTAGE TABLE(2 Premium Bottles, Private Rooftop Access 4pax): 4000MAD
OTHER INFOS
✅ CASHLESS SYSTEM
✅ FOOD
✅ BEVERAGE
✅ SHOPS
✅ ACCOMODATION
✅ PARKING