RHAPSODY X TOY TONICS
11 August @ 6:00 PM

-

12 August @ 2:00 AM

UTC+0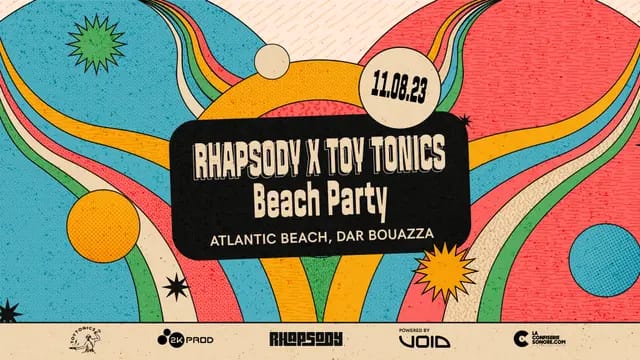 🌴 Get Ready for The Toy Tonics Beach Party by Rhapsody! 🌴
Calling all disco, funk, and house music enthusiasts, get ready to embark on a musical journey like no other! Rhapsody presents the ultimate beachside extravaganza: The Toy Tonics Beach Party! Join us for an electrifying evening of dance, beats, and endless fun under the stars. This is not just a party; it's a sonic adventure that promises to awaken your senses and elevate your spirits.
🎶 Event Highlights 🎶
🏖️ Feet in the Sand, Head in the Stars: Immerse yourself in the ultimate beach party experience as you dance to the finest grooves with the sand beneath your feet and the starlit sky above.
🎧 A Stellar Lineup: Brace yourself for an exceptional lineup of musical maestros who will keep the beats flowing all night long. From Berlin's very own, Toy Tonics founder Kapote, to the most talented Moroccan artists, this lineup is curated to ensure an unforgettable musical journey.
🔥 Sizzling DJ Acts: Get ready to groove to the beats of some of the most iconic DJs in the scene:
LINE UP
Kapote (Toy Tonics): A DJ, keyboard wizard, and music producer extraordinaire. Kapote's creativity knows no bounds, and he's the mastermind behind one of the world's biggest house music record labels.
Anas Lebelage (Rhapsody & Aperos Electro): World rhythms and soulful sounds converge in Anas's energetic house music beats, creating a fusion of melodies that will ignite the dancefloor.
Jihayne (Rhapsody): Hi Jane's fusion of underground sounds and jazzy tunes will transport you to an atmosphere of her own creation, where grooves and vibes collide.
Hitack: An aficionado of funk and disco, Hitack will have you grooving to funky and groovy remixed house music tracks that will keep you moving all night.
Malek Marouane: A melomaniac at heart, Malek Marouane's DJ sets are as eclectic as his inspirations. Co-founder of @diss-rupt and @someofus_xyz, he'll take you on a musical journey like no other.
TICKET
The first release tickets are already sold out, so secure your spot now to avoid missing out on this epic event. Available Here
Mark your calendars for August 11th and get ready to dance till 2AM.
LOCATION
📍 Venue: The mesmerizing Atlantic Beach at Dar Bouazza (near Casablanca) will set the stage for this unparalleled musical experience. Powered by @voidacoustics via @2kprodmaroc, you're in for a sonic treat that'll resonate through your soul.
ORGANIZER
🪐 Rhapsody's Mission: Rhapsody is all about nurturing the house music scene in Morocco, spreading good vibes and putting smiles on the faces of dancers. This event is a testament to our commitment to creating unforgettable musical memories.