DISKONNECTED SOULS
29 July @ 12:00 PM

-

30 July @ 2:00 AM

UTC+0
Setting Sail With Diskonnected Souls for an Electrifying Voyage in Tangier, Morocco!
⚓🔥 ACT: 1 Boat Party – 29th July, 12 PM to 3 PM 🎶🚢🌞
Prepare yourself for an unforgettable experience with Diskonnected Souls as we embark on an electrifying voyage through the sparkling waters of Tangier, Morocco! Join us on the exclusive ACT: 1 Boat Party, where the fun knows no bounds and the excitement is bound to be contagious!
What to Expect: As the clock strikes 12 PM, we'll set sail aboard a luxurious yacht, ready to cruise along the picturesque coastline of Tangier. Feel the sea breeze against your skin as you step into a world of music, laughter, and endless entertainment. Dance to the hottest beats spun by top-notch DJs and groove to the rhythm of the waves.
ACT: 1 Ticket Perks: With your ACT: 1 ticket, the adventure doesn't end here! You'll have access to not one, but TWO more incredible parties!
🎉 ACT: 2 Pool Party – 3 PM to 8 PM 🍹🌊 Get ready to make a splash at the ACT: 2 Pool Party, taking place in a stunning poolside setting. Lounge in style, sip on refreshing cocktails, and revel in the company of like-minded party enthusiasts. The poolside beats will keep you dancing all afternoon long!
🌴 ACT: 3 Beach Party – 8 PM to 2 AM 🌅🏖️ As the sun sets, the party transitions to the sandy shores for the ACT: 3 Beach Party. With your toes in the sand and the stars above, lose yourself in the rhythm of the night. Spectacular fire shows, captivating performances, and a lively atmosphere will keep you going till the early hours of the morning!
Indulgence at Its Finest: Throughout the day, indulge in a tantalizing buffet offering an array of delectable dishes that cater to all tastes. Quench your thirst with a variety of refreshing drinks available on board. Our team will ensure that you're well taken care of, leaving you with nothing to worry about except having the time of your life!
Limited Tickets Available: Don't miss out on this once-in-a-lifetime experience! Limited tickets are available for the ACT: 1 Boat Party, and they are selling out fast. Secure yours now and get ready to embark on a 14-hour non-stop fun-filled journey like no other!
Mark your calendars for the 29th of July and get ready to create memories that will last a lifetime. Whether you're a party animal or just looking for a day of pure enjoyment, the ACT: 1 Boat Party promises an adventure you won't want to miss. See you on board! ⚓🔥🎶🚢🌞🍹🌊🎉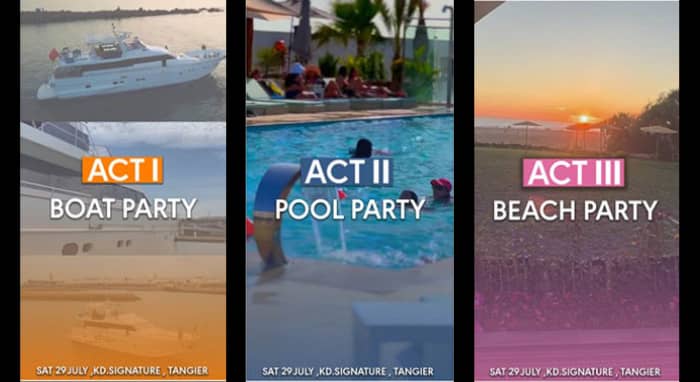 LINE UP
SANTE
UNES
H MAN
JAZA
MARIA MALASANGRE
BLG
More TBA
TICKET
Ticket: Elite Pass (ACT 1)
Time: 12 PM – 3 PM
Ticket Price: 1500 MAD
Access: ACT 2 (Pool Party) and ACT 3 (Beach Party)
Duration: 14 Hours of Non-Stop Fun!
Ticket: Premium Pass (ACT 2)
Time: 3 PM – 8 PM
Ticket Price: 700 MAD
Access: ACT 3 (Beach Party)
Duration: 11 Hours of Non-Stop Fun!
Ticket: Sunset Pass (ACT 3)
Time: 8 PM – 2 AM
Ticket Price: 300 MAD
Duration: 6 Hours of Non-Stop Fun!
Note: The Sunset Pass (ACT 3) does not include access to the Boat Party (ACT 1) or the Pool Party (ACT 2).
LOCATION
KD.SIGNATURE, Plage sidi kacem, 9000, Tangier, Morocco
ORGANIZER