100 BPM
28 July @ 6:00 PM

-

29 July @ 10:00 AM

UTC+0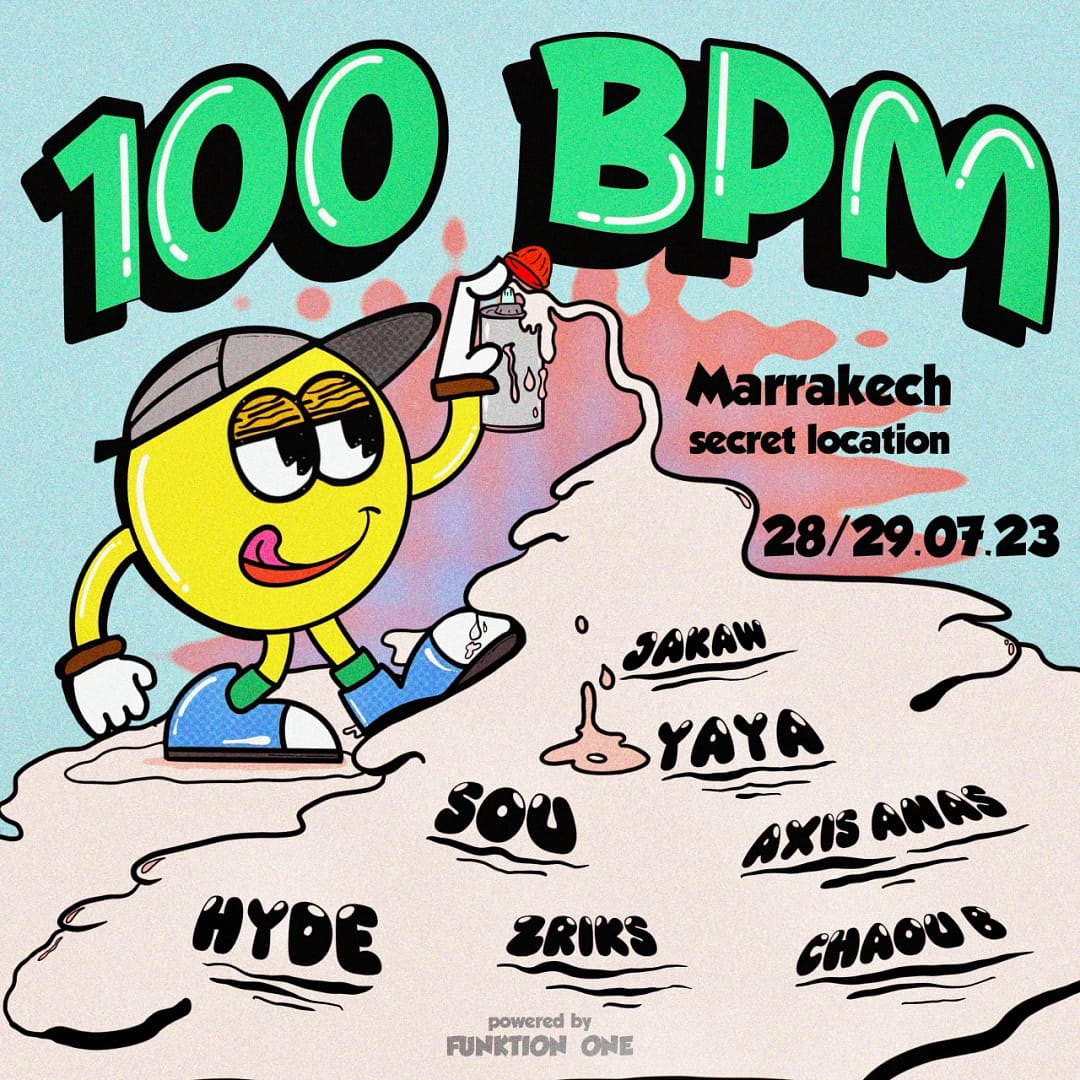 🎶🎉 Join Us for an Unforgettable Electro Music Event in Marrakech! 🎶🎉
Get ready for an electrifying event as 100 BPM returns with an exciting new edition of their iconic music event in the mesmerizing city of Marrakech! With the addition of two talented newcomers to the team, the anticipation is soaring.
In line with their mission to provide the audience with the finest music quality. Prepare to be enchanted by 16 hours of non-stop music, carefully curated to take you on an extraordinary journey through the world of electrifying beats.
At a secret location in Marrakech on the 28th and 29th of July, you will be treated to an exceptional lineup of the best local diggers and DJs. With their passion and expertise, they will captivate your senses and keep you dancing all night long. The dancefloor will come alive with an energy that's simply infectious!
But that's not all – we have a special surprise for you! Amidst the pulsating beats and soulful melodies, you can also enjoy the poolside ambiance. Soak up the sun, take refreshing dips, and recharge your energy while surrounded by the beautiful Marrakech landscape.
We are also thrilled to announce that the event will be powered by none other than Funktion One. Their cutting-edge sound system will ensure that you feel every beat and bassline deep within your soul, elevating the music experience to a whole new level.
Don't miss your chance to be part of this electrifying event! Secure your spot now by booking your tickets. The entry fee is only 350 Moroccan Dirhams, a small price to pay for the epic memories you'll create.
Gather your friends and dance enthusiasts, and mark your calendars for the most anticipated electro music event in Marrakech. Let's create magical moments together on the dancefloor, as we lose ourselves in the rhythms and melodies that will unite us all.
Join us at the secret location in Marrakech, and let's make this a night to remember!
See you on the 28th & 29th of July for a celebration of music, passion, and unforgettable experiences. 🎉🎶🕺💃🏖️☀️🎟️
LINE UP
AXIS
CHAOU B
HYDE
JAKAW
SOU
YAYA
ZRIKS
TICKET
Normal Pass(Limited Spot) : 350 MAD
LOCATION
Secret Location, Marrakech, Morocco
ORGANIZER